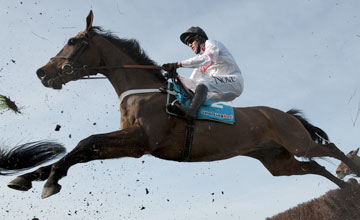 Finian's Rainbow: one of Nicky Henderson's six festival winners
PICTURE:
Edward Whitaker (racingpost.com/photos)
Henderson employee 'wins over £1m' on acca
A DAY after landing a cool £1 million for backing five of Nicky Henderson's six Cheltenham Festival winners, Conor Murphy wasback at Henderson's yard at 5.30am to report for work as usual.
Murphy, who'd originally been keen to remain anonymous, featured among a number of the national newspapers' coverage on Gold Cup day on Friday, after Riverside Theatre's success in the Ryanair Chase on Thursday had netted him the life-changing sum.
The 31-year-old's remarkable windfall had yet to properly sink in on Friday morning, although Murphy has no plans to leave his position at Henderson's yard.
He said: "I don't have a clue what I'll do with it. You don't expect to win a million so it's very hard to plan for it. I'll be staying here for the moment anyway because I like it here and sure I'll have a good holidayin the summer.
"I always wanted to be a trainer but I think that ambition has worn off me. Working with the calibre of horses here kind of spoils you and it would be so difficult to start from scratch with average horses, I don'tthink I'd be able to hack that."
Murphy revealed that he struck the winning £50 accumulator with Bet365 in December, when the odds were around 20,000-1.
Murphy, who lives in a cottage at Henderson's Seven Barrows yard, included Sprinter Sacre (Arkle 6-1), Finian's Rainbow (Champion Chase 8-1), Simonsig (Neptune 12-1), Bobs Worth (RSA 6-1) and Riverside Theatre (Ryanair 10-1) in his life-changing bet and even after Finian's Rainbow's win in leg four, decided not to hedge the bet on the exchanges.
Nicky Henderson, who's magnificent week has seen him become the winning-most trainer in Cheltenham Festival history, only learned of Murphy's victory on his way home from the track on Thursday and said he was "thrilled" about the news.
"Conor was in the yard this morning at 5.30am as usual, feeding, feeling legs and doing all the other important jobs as deputy head lad," said Henderson on Friday.
"We're all thrilled for him. I know it's a cliche, but it couldn't happen to a nicer person; he's the best. I had a chat with Conor when I got back. I sincerely hope he will stay with us because he's an importantmember of the team."
Having originally joined Henderson's yard in 2003, Murphy spent time in America with trainers Niall O'Callaghan and David Carroll, before rejoining Henderson in 2008.
The trainer added: "Conor joined us on a scholarship scheme and then went off the States. It was my headlad Corky (Browne) who encouraged Conor back because he said he would be his first choice to replace him when retirement came. He has been Corky's right hand man."
Of Murphy's winning bet, Henderson said: "I admire his amazing foresight, particularly as we undecided until about ten days ago as whether to run Simonsig in the Neptune or Supreme. He certainly didn't mention a preference to me!"
Bookmakers are normally keen to trumpet when a client enjoys a massive pay-out but bet365 were unwilling to discuss the details of the win when contacted by the Racing Post.
Spokesman Pat Cooney said: "It was a horrible day for us as bookmakers, we lost on every single race, and while we are pleased for customers who had a good day, it is company policy not to discuss individual accounts."
This is the second major gamble to have been landed at the festival this week with Phil Williams, owner of the Donald McCain-trained Son Of Flicka, reputed to have collected £900,000 when his horse won the Coral Cup on Wednesday.