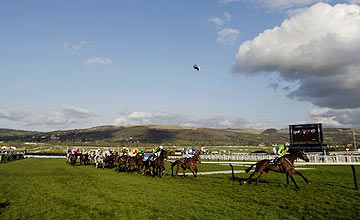 Cheltenham: officials preparing to water track before day three of festival
Officials at Cheltenham preparing to water track

WITH dry weather set to continue, officials at Cheltenham were preparing to water after racing on Wednesday night in a bid to ensure good going when the action switches to the New Course for the last two days of themeeting.
At the end of racing on Wednesday, clerk of the course Simon Claisse said: "We intend to put 8mm of water on the mile-and-a-half circuit of the New Course overnight. I'll have another look at the chute in the morning, but at the moment that's good ground."
Looking at the forecast he said: "It's set to be dry and cloudy with sunny intervals. If the sun breaks through it could reach 11C or 12C, but otherwise it will be more like 8C or 9C."